It's been a while between drinks for us at
The Hanger
.
We're playing there on April 10th w/ Del Toro, Turnpike & Karl Monticone. $10. Guarenteed to be a good night because going to The Hanger is always a good night.
---
In other news we're demo-ing/recording over the weekend for album #3. Why the slash? Because we never really know what we're doing when we set up the mics (I read that Eddy Current Suppression Ring are like this too). Our first album was supposed to be a demo. Our second album was supposed to be 'something weird' we'd put out on short-run CDr (like a boris lowercase album) and the live record, pfffff, we didn't even know we were recording.
So something's happening this weekend.
We have nine new songs now. One of the them is about 15-20 mins long.
---
Dear Internet,
Krist Novoselic's onstage-wear was supremely, supremely radical. I'd like to take this moment to salute and congratulate him formerly on our blog.
I especially dig the following examples: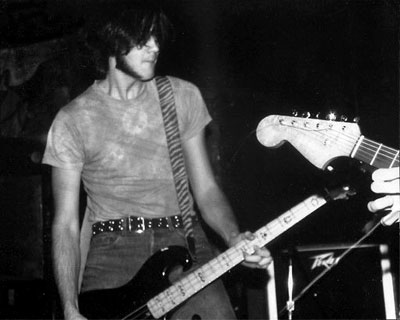 Exhibit A
Yeah! Look at this. I think Krist must have been able to see into the future during the late 80s. Not only was he in Nirvana already (good work if you can get it) but he's also already rocking the 2010 teenage psych-revial look
De
rigueur. How'd that happen?
Exhibit B
Wearing the same belt but on the cusp of celebrity, Krist made 1991 more than the year punk broke. He made it the year when a man wore this outfit in front of epic crowds. People bang on about the 90s but really, the reason it was good was because famous people dressed like Exhibit B.
You don't need sunglasses with cigarettes on them
when you're rocking as hard as this in stonewashed red denim.
Exhibit C
Tumbleweed
learn't a lot from this guy. No dis. I would have ripped on that look too.
Still might.
Sincerely,
- Ian Rogers